For various services, you need to pay certain amount as Fees using Sadad Services through online banking options or even through any agents offering such services. For example, you need to pay dependent fees in order to renew iqama, you need to pay fees to get iqama of a new-born baby, you need to pay fees for driving license, you need to pay fees for vehicle registration (Istimarah) renewal etc. In any such case, once you have paid required fees, you can verify the payment through Absher as amounts that you paid will be shown under Available Funds in your Absher account.
In this post, we will explain how to query available funds using Absher. We will explain how you can query or check available funds for yourself by logging into your account and also explain public query available funds service which allows you to query available funds for any iqama by providing iqama number.
How to Query Available Funds in Absher?
MOI Absher provides service for its registered users by which they can check available funds for various categories including Passport Deposits, Sponsorees Deposits, Vehicle Deposits, Driving License Deposits and Labour Deposits.
In order to check your available balance, login to your Absher Account and then choose Electronic Services. Next, you need to select Inquiries under My Services tab & then select General Services and click on Query Available Funds. You will be able to see all details of available funds in each category. For example, if you deposited fees for dependents iqama renewal, you will be able to see that amount as Passport Deposits.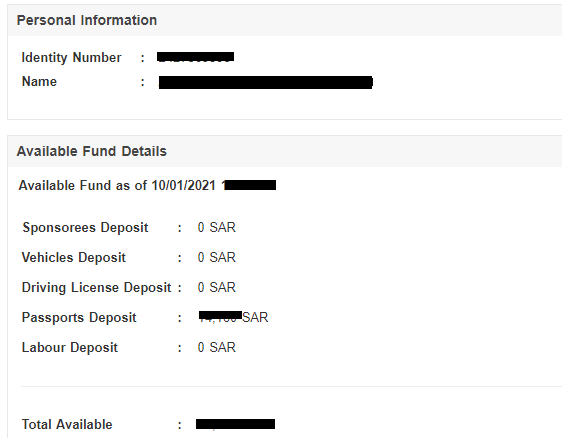 Alternatively, if you go to your Absher Dashboard and click on More Details under Family Members and then expand details for any of your dependents, you should be able to see same amount in Passport Deposits based on your deposited amount as dependent fees.
How to do Public Query Available Funds in MOI Absher
If you want to query about available funds and verify the deposit amount that you have paid as dependent fees for your family or any other fees paid for vehicle registration or driving license renewal etc. you can use Public Query Available Funds Service on Absher.
To use this service, in MOI Absher, go to Electronic Services and then choose Public Query Available Funds. A form will open for you and you will need to enter Iqama number in Identity Number field and enter captcha code and click on View.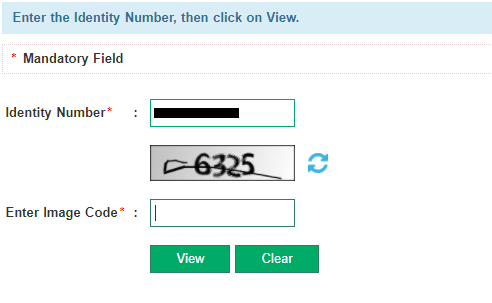 System will show you details of all your available funds which have been deposited for provided iqama number or his/her dependents.